‍
What is a workspace?
A workspace is the highest level of organization in Stomio. When you sign up for your account, you are required to either create a new workspace for you/your team or join an existing workspace by invitation from a teammate.
‍
A workspace is where you create a database of your testers and teammates. This database is shared across all teammates in the workspace. You can create multiple betas within a workspace.
An organization can have multiple workspaces. A typical example for this would be a workspace for each brand in a big company. ‍‍

‍Pro Tip - Share a workspace with others in your organization and you'll also be able to share the same database of testers.‍
‍
‍
Teammates and testers
You can invite your team members within your organization to your workspace. Once they are in your workspace, each team member can create their own betas, invite other teammates to the workspace or their betas, and be added to a beta created by another teammate.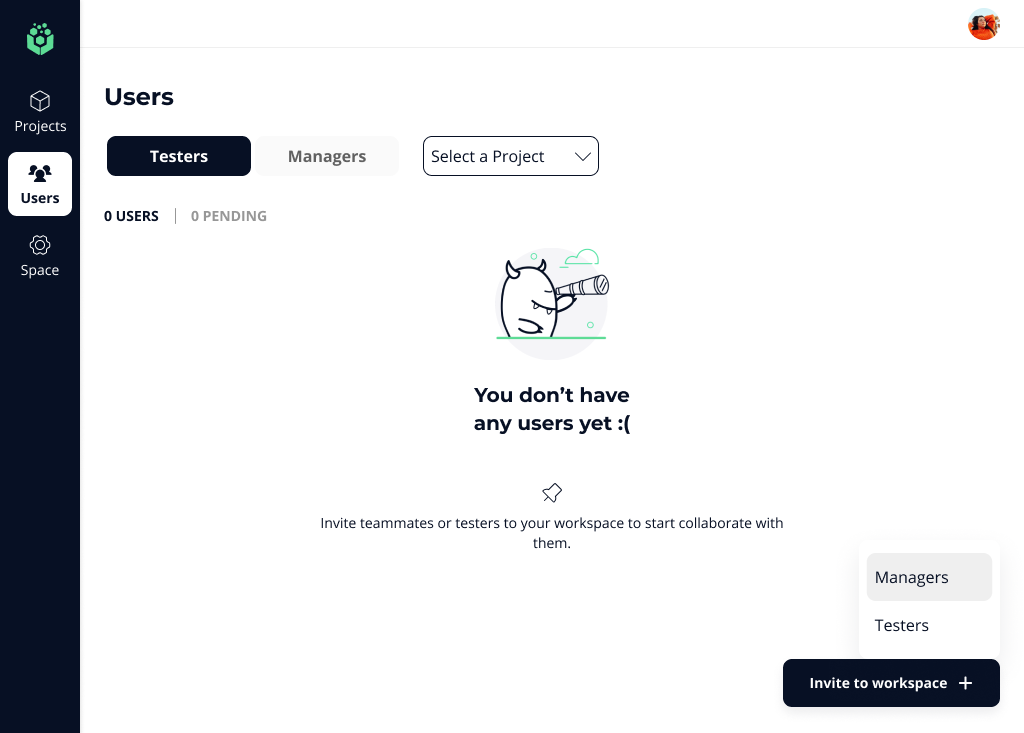 Your testers can be your customers, other colleagues in your organization (e.g. sales engineers), and your teammates! Testers can be invited to a workspace and they will not be able to see any beta until they are added to a beta. Testers can be invited from a beta directly which makes them part of the workspace as well.

Pro Tip - You can bulk upload your existing tester spreadsheet by filling the provided template and uploading it in .csv or .xlsx format.
‍
‍
Create a new beta
Creating a new beta is a simple process

Type in beta name. This name will be visible to your testers.
Add description of your beta. This field is visible only to your teammates.
Invite teammates to your beta (optional). You can collaborate with your teammates during the setup time.
Invite testers to your beta (optional). Adding testers to your beta when in draft mode will NOT result in any action on the tester side. See more in the 3 stages of beta next.
Create instructions for your testers to follow using tasks. See more in Increase Engagement with Micro-Instructions.
Why 3 stages in a beta?
When creating a new beta, there are 3 consecutive stages:‍


Draft: In this stage, you can collaborate with your teammates around creating instructions for your testers using tasks.

You can also start adding testers to the beta but they will not receive invitations yet. This helps you plan your beta units distribution if you are running a limited number of units program.


Published: when you publish your beta, your testers get invited to the beta. They will only be able to see the beta, and read announcements during this stage. You can still add more testers to your published beta.

Pro Tip - Use published stage to recruit testers and finalize your instructions to them using tasks.
When you publish a beta, you are required to put your target start and end date for your beta. The target start date is most important because it will set the expectation for your testers on how many days left for the program to be active.

Pro Tip - Setting a target start date sets the expectation for your testers and eliminates unnecessary noise.
Active: when you have everything ready, launch your beta so your testers start executing on the tasks assigned to them and reporting issues. You can still add more testers at this stage and they will see their tasks immediately.

Setting an accurate target end date for the beta is important at this stage so your testers understand the time remaining to finish their tasks.
Pro Tip - Use announcements to keep your testers motivated and communicate important updates such as firmware updates.